19th Annual Green Bay Fraternal Order of Police Golf Tournament
Posted on Aug 5, 2019
On August 2, 2019, the Green Bay Fraternal Order of Police held its 19th Annual Golf Tournament at Brown County Golf Course. It was a beautiful day that raised money for Wisconsin Concerns of Police Survivors (C.O.P.S.), Green Bay FOP's Officer Distress Fund, and other local charities supported by Green Bay FOP.
Congranulations to the champs:

1st Place: BOE Group
Rob Ernest
Tony Larsen
Jesse Jossart
Chad Weihbrecht

2nd Place: Dallaire Realty
Greg Dallaire
Nic Carpiaux
Chris Spiering
Ben Bauknecht

3rd Place: Community First Credit Union
Brent Jensen
Jeff Whitney
Brian Maciejewski
Matt Martin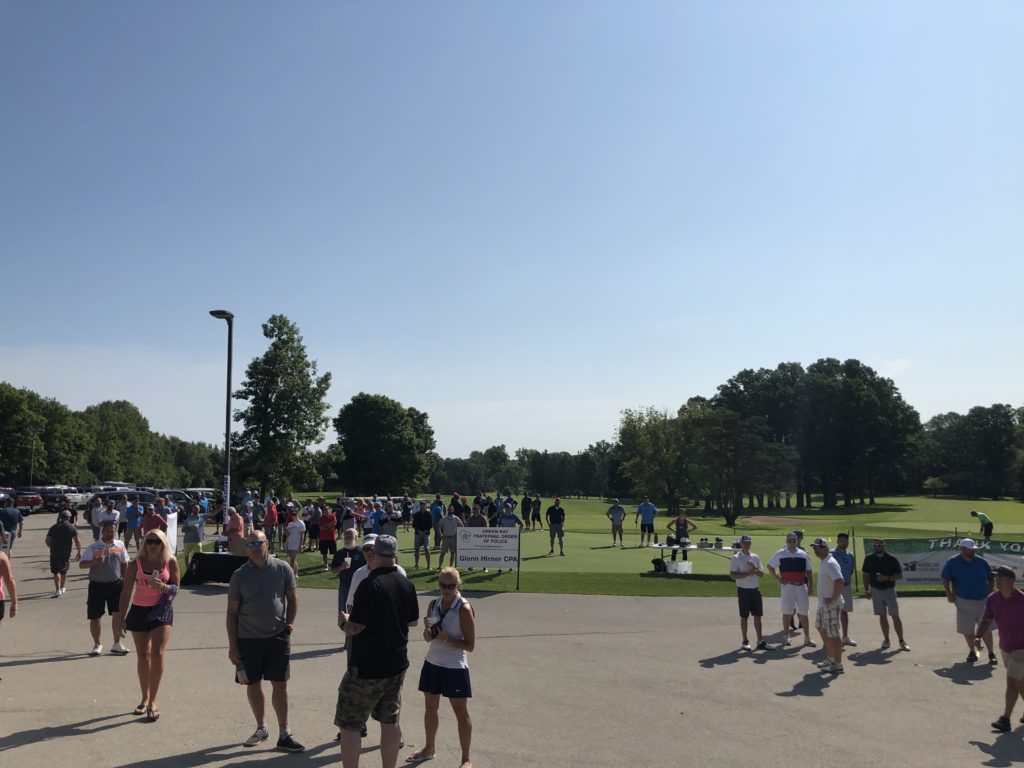 Michael Seering won a BRAND NEW HARLEY DAVIDSON MOTORCYCLE courtesy of Vandervest Harley-Davidson of Green Bay for getting a hole in one on hole 17. Congratulations Michael!!!
(L-R) Green Bay FOP Golf Chair Scott Stimpson, Green Bay FOP President Ryan Windorff, Michael Seering, Erik Vandervest
We want to give a HUGE thank you to the sponsors, planning committee, and volunteers that made this another successful year:
Diamond Sponsors:
Gold Sponsors:
Silver Sponsors:
Bronze Sponsors:
Hole and Tee Box Sponsors:
1. Alliance Insurance Centers, LLC / Brown County Sheriff's Benevolent Association
2. Cock and Bull Publick House / The Detail Shop
3. H.J. Martin and Son, Inc. / Nearly New Auto and Truck
4. Pearly Gates Veterans Ride / Green Bay Police Benevolent Association
5. Brown County Correctional Officers Benevolent Association / Badger State Used Tires
6. Resource One Realty, LLC / L.P. Mooradian Flooring
7. Bergstrom Buick, GMC, Cadillac of Green Bay
8. Crosby Heavy Duty Wrecker Service / Anduzzi's Sports Club
9. Auto Lock Out / Fox Harbor Pub & Grill
10. Tax Management Services / Foundation Building Materials
11. Nelson Tactical / Ticket King
12. Sinclair Plumbing / Mackinaws Grill & Spirits
13. Marty Brice Construction / Ken's Sports
14. The Uniform Shoppe of Green Bay, Inc. / The Home Depot
15. Dallaire Realty / Festival Foods
16. Farmers Insurance / The Rock Garden
17. Vandervest Harley-Davidson
18. Green Bay Gamblers / Ashwaubenon Public Safety Benevolent Association
Putting Green Sponsor:
Clubhouse Seating Area Sponsors:
Landmark Real Estate and Development

Wine Cellar

Steve Harrison

Auto Haus
Green Bay FOP Golf Committee:
Scott Stimpson, Cristey Johnson, Liz Pappe, Mike Lauder
2018 Golf Tournament Volunteers:
Jerry Johnson, Ryan Windorff, Carley Windorff, Mike Wanta, Jim Swanson, Michelle Stimpson, Penny Albers, Deb Larsen, Jen Mahoney, Joselyn Gruenke, Jessica Schultz, Kim Brewster, Kayla Major, Brittany Wood, Alexa Ebel, Caron Salzmann, Amy Krueger, Andrea Bilskey, Dave Van Erem, Greg Wells, Eileen Nick, Tina Gossage
Special Thanks To:
Brown County Golf Course, Alex Schroeder (Bosch Tools), Dave Steffens, Taylor Clark